CYPRUS MAP BY, map of cyprus
Cyprus is an island of legends that basks year-round in the light of the warm Mediterranean sun. A storied past 10,000 years long has seen civilizations come and go and the likes of everyone from Alexander the Great to Cleopatra stake their claim here - but then, people do tend to get possessive when faced with such beauty. Aphrodite made her home on Cyprus, and travelers throughout antiquity came here just to pay her tribute. 
Today Cyprus is a modern country that effortlessly marries European culture with ancient enchantment. Here you will discover a compact world of alluring beaches and fragrant mountain peaks, vineyards studded with olive trees and ancient ruins that stir the imagination, citrus groves and old stone villages where sweet wine flows as freely as conversations at the local café. A carefree place where a sense of timelessness is magnified by the kindness of the people.
Cyprus enjoys approximately 340 sunny days per year, the hottest months are July and August and hotels are fully open during months of April – October, whereas some close November – March.
The wettest months are December – February. You should step inside Cyprus for an in-depth look at an island that is as exotic as you imagine and more accessible than you might think, with her people's warmest hospitality ever 
Map of Cyprus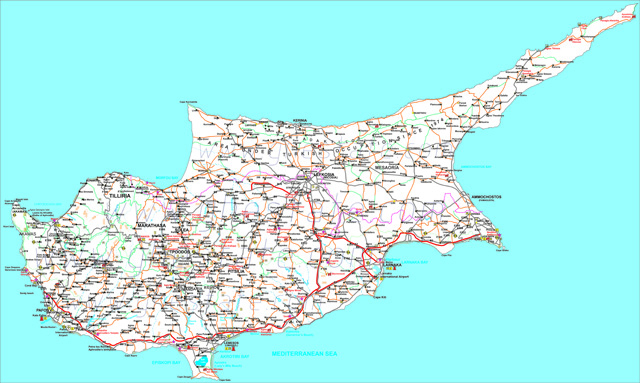 Cyprus map